Expand your Visor: Buy the Visor 8 MB Flash Memory Module at Amazon:
Handspring Visor 8 MB Flash Memory Module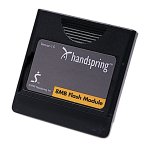 Also visit VisorCraze homepage to browse our forum.
Description:
Expand your visor-power with the Handspring 8 MB flash module, which lets you store applications for your Handspring Visor or Visor Deluxe PDA. You can back up your data or copy, move, and delete apps. This little module stores up to 200 typical Palm OS applications.